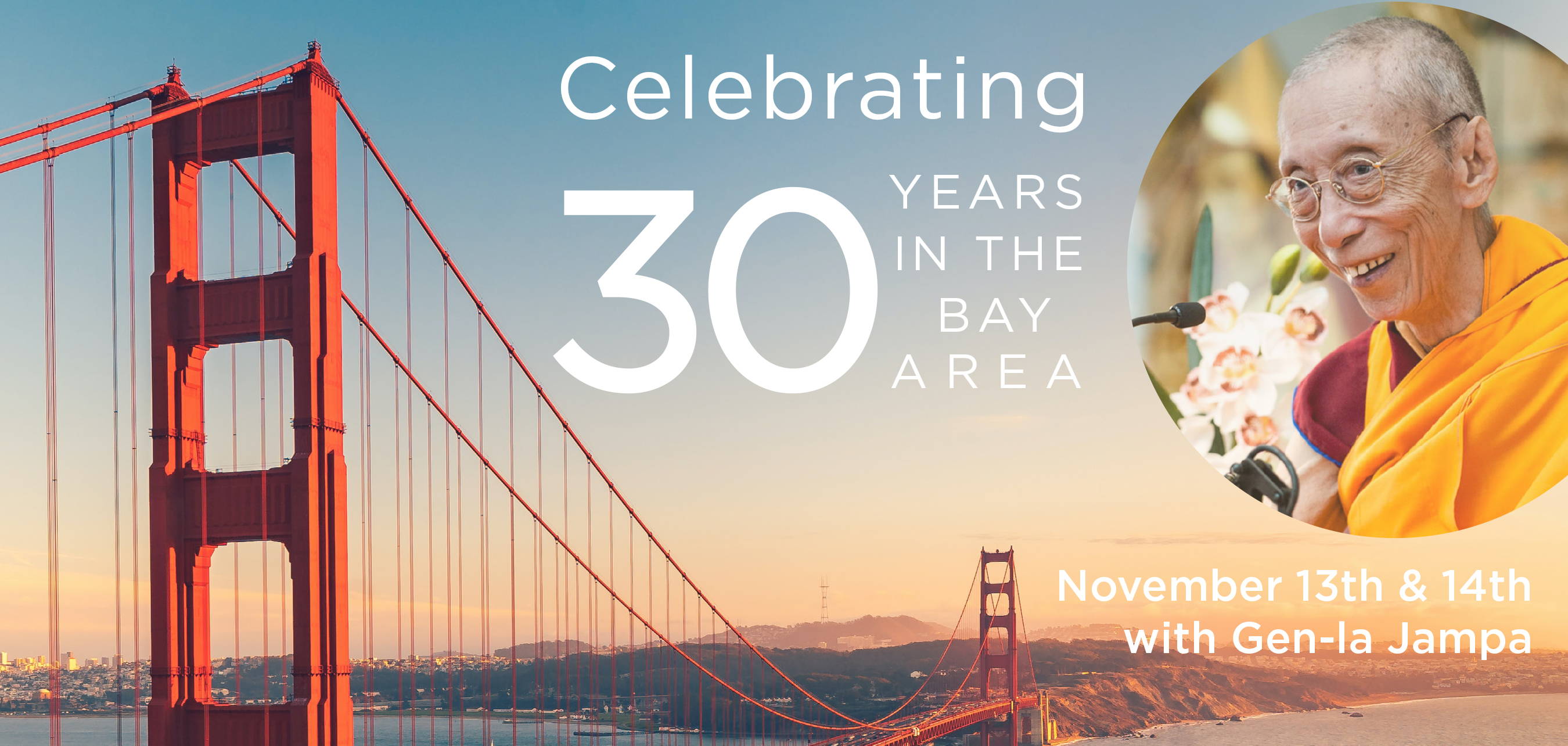 Members Early Registration Page Only - Available until Oct 22nd

Space for in-person attendance is limited. We want to make sure our members get the opportunity to secure a spot in the Temple before registration is opened to the public. Please register now to attend in-person. Registration will go live to the public on Oct 23rd.

Registering now will also help us to plan how much food to prepare for the party! Thank you in advance for your help and we look forward to celebrating with you!

Let's celebrate 30 years of flourishing Kadam Dharma in the San Francisco Bay Area, November 13th and 14th! Everybody welcome.
If you've lived in San Francisco for a while, you know how much the city, the Bay Area, and it's people are always changing. People come and go, as do the businesses and restaurants lining our streets. So, it's pretty amazing to think that Kadam Dharma has been a constant presence here for 30 years! 
 
To celebrate, we are culminating our Year of the Bodhisattva with a very special weekend with a very special Teacher. Gen-la Jampa is flying out from the International Kadampa Retreat Center Grand Canyon to grant us the Bodhisattva Vows, give us special teachings, and celebrate with us!
Gen-la Jampa is an internationally renowned, ordained Buddhist teacher and the Deputy Spiritual Director of the New Kadampa Tradition - International Kadampa Buddhist Union (NKT-IKBU).
​As a senior NKT teacher, Gen-la Jampa has been a student of Venerable Geshe Kelsang Gyatso for many years, and under
Geshe-la's guidance has taught at many centers and events around the world. Gen-la is well-loved for his clear and inspiring teachings and his ability to touch people's hearts through his sincerity and loving-kindness. We are very grateful he will be with us in San Francisco
Everybody is welcome to join in.
Schedule
Saturday, November 13th
Bodhisattva Vow Ceremony | 10am - 12pm
(Available live only)

Commentary | 2:30 - 4pm
(Available until Nov 15th at midnight)

Party | 5 - 7pm
(Hosted in the beautifully and specially lit and heated backyard garden of the residence at 415 Delano Ave)
Sunday, November 14th
Public Talk: Be Your Own Protector | 11 - 12:30pm
(Available until Nov 16th at midnight)
Registration
Members receive half off of the Bodhisattva Vow Ceremony, Commentary, and the Public Talk.
No discount for the Party.

Bodhisattva Vow Ceremony & Commentary - $35 ($17.50 for members)
Party - $25 (No discount)
Public Talk - $15 (7.50 for members)
Please use the discount code: MEMANNIVERSARY