Guru Yoga & Mandala Offering
Preliminary Guide Retreat

Saturday, September 30 - Monday, October 2

IN PERSON ONLY

Guru yoga is a special and powerful method that enables us to receive the blessings of all the holy beings. We all have many seeds of Dharma realizations within our consciousness: seeds for gaining realizations of lasting inner peace, compassion, bodhichitta, and wisdom realizing ultimate truth. Receiving blessings from holy beings nurtures these seeds to grow and ripen. Blessings are essential to attain true and lasting happiness, and the protection of Dharma realizations in our mind; we practice Guru yoga to receive Buddha's blessings.
We do mandala practice with the intention to benefit ourselves and all living beings by accumulating merit or good fortune. As we do this practice we act as the representative of all mother living beings and we offer our environments and enjoyments as pure worlds and pure enjoyments to all the holy beings.
You can prepare for the retreat by reading the section on Reliance on the Spiritual Guide from Joyful Path of Good Fortune and the section in Heart Jewel on Je Tsongkhapa and the Migtsema prayer. You can also read New Guide to Dakini Land on making mandala offerings, Great Treasury of Merit on receiving the four empowerments, Guru Yoga, and on Je Tsongkhapa. Also, the The Oral Instructions of Mahamudra in Part One: Practice of the Great Preliminaries.
Everyone is welcome.
Please register online here or at the door
COST:
$40: Full Retreat
$20: Members
$5: Per Session (pay at door)
Free: TTP Students
Saturday, September 30 (at the Temple):
Offering to the Spiritual Guide: 9:00am -11:00am
Sunday, October 1 (at the Residence):
Session 2: 11:00am-12:30pm
Monday, October 2 (at the Temple):
Session 2: 10:00am-11:30pm
    What to expect in this retreat

Self-guided retreat

Everyone welcome. Although this is technically an advanced course, beginners are welcome to participate.

If you are new to this practice or need more information, contact:

epc@meditateinsanfrancisco.org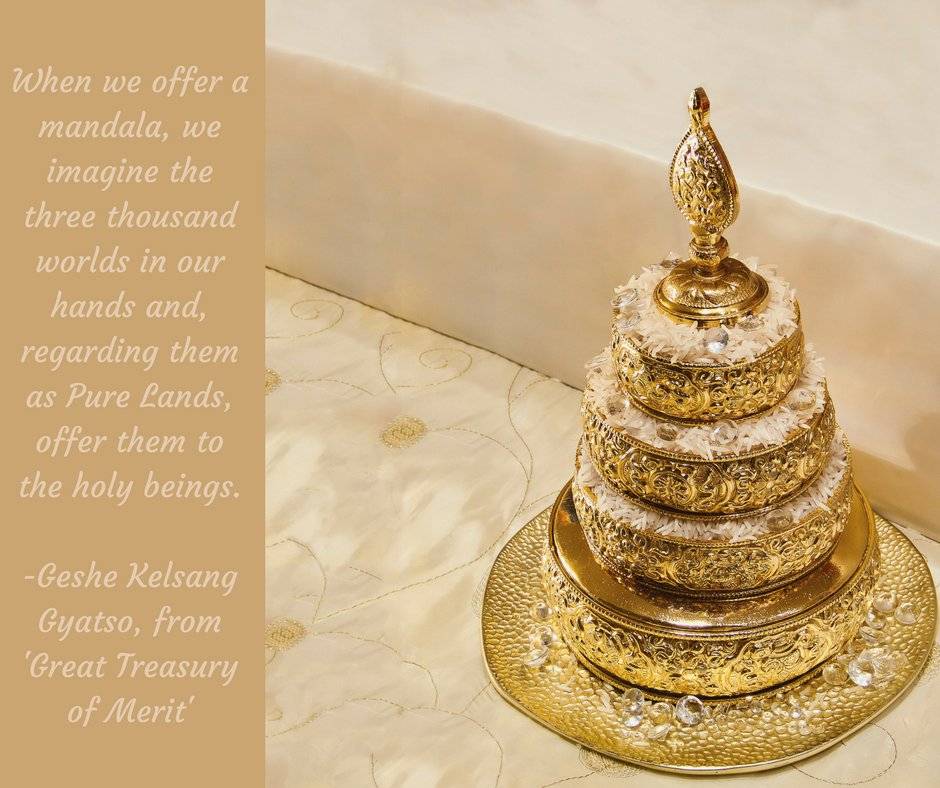 DETAILS
SPECIAL EVENT:  Guru Yoga & Mandala Offering
Preliminary Guide Retreat
WHEN:  Saturday, September 30 - Monday, October 2
COST:  $40 / $20 for Members / Free for TTP Students

WHERE: KMC SF, 3324 17th Street, San Francisco, CA 94110 (Sat & Mon) and at KMCSF Residence @ 415 Delano Ave. (Sun)
GETTING THERE:
Metered street parking - Free after 6pm and all day on Sundays
Parking garage on 16th & Hoff St. (42 Hoff St, San Francisco, CA 94110)