Kadampa Meditation Center
San Francisco

Providing Buddhist wisdom and inner peace to the San Francisco Bay Area since 1991
Kadampa Meditation Center San Francisco (KMC SF) was established in 1991 to provide people in the Bay Area with the opportunity to learn about and practice Buddha's teachings.
Situated between bustling Mission and Valencia Streets, we offer a place of refuge and reflection for everyone in this hectic, modern world.
Our Center is dedicated to the attainment of world peace by offering everyone the opportunity to develop lasting mental peace through our retreats, drop-in meditation classes, group prayers, and workshops.
I love it here. So convenient and reasonable. Check the schedule for a quick meditation.
We understand that everyone needs tools to become free from worry and stress, learning how to respond positively to all of life's challenges.
KMC SF provides meditation practices and Buddhist teachings suited for modern people with busy daily lives.
The regular teacher, Gen Choma, is absolutely amazing - she has a way of presenting the ancient wisdom of Buddhism in a clear, systematic, and completely modern and relatable way.
In the Mission? KMC San Francisco resides in one of the historically-protected buildings of San Francisco which was built in 1918 during the restoration of the Mission after the 1906 earthquake. 3324 17th street was originally a Spiritualist Church.
Currently, all of our classes are online, and we hope to open our doors again soon when the city of San Francisco allows us to safely do so.
Only by creating peace within our own mind and helping others do the same can we hope to achieve peace in this world.
Venerable Geshe Kelsang Gyatso Rinpoche
Resident Teacher, KMC San Francisco
Gen Kelsang Choma
Gen Kelsang Choma is a senior Teacher and Buddhist nun with the New Kadampa Tradition of Modern Buddhism. She has studied extensively on the Teacher Training Program for over 30 years and is qualified to teach both Sutra and Tantra. She is the Resident Teacher at Kadampa Meditation Center San Francisco and is invited to teach nationally. People enjoy her teachings for their clarity and warmth.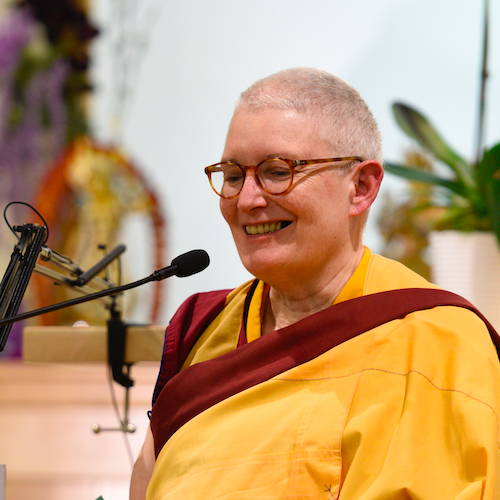 All of KMC SF's teachers are in one of the advanced study programs developed by Ven. Geshe Kelsang Gyatso Rinpoche. They teach branch classes, Foundation Program, other drop-in meditation classes and workshops.