With Guest Teacher Gen-la Thubten
Available to stream from the center & from home
Friday, October 1st & Saturday, October 2nd
Available until October 5th at midnight
Full Event: $40, Fri Only: $15, Sat Only: $30
Members receive half off! Become a member
Buddha encourages us to have compassion for all living beings and to show them loving kindness in everything we do. But he also teaches that everything is by nature empty and that all the things we normally see, including all living beings, do not actually exist.
On this short course, through teachings and meditations, Gen-la Thubten will show how there is no contradiction in these teachings but rather a sublime harmony. By understanding how to unify the practices of kindness and emptiness we will free our mind from all worries and problems, enrich our relationships with others and follow an inner path that leads to permanent inner peace and lasting happiness.
Schedule
Friday, October 1st
Introduction | 7 - 8:30pm
Saturday, October 2nd
Teaching 1 | 9 - 10:30am
Teaching 2 | 11:30am - 1pm
Registration
Full Event - $40
Friday Only - $15
Saturday Only - $30
Members receive half off! Become a member
Audio recordings are available! (After registering, click "Access your Links" to find the link to purchase recordings)
IN-PERSON
No pre-registration needed, please register at the door.
Masks are now required for everyone whether vaccinated or not.

LIVE-STREAM
Links to classes will be accessible after registration. Click "Access your Links" to find the Youtube links to each session.
For help with registration or links, please email: techsupport@meditateinsanfrancisco.org
PLEASE NOTE: These classes are offered for residents of the Bay Area only. Fortunately, there are Kadampa Centers worldwide! Please click here to support the Center nearest you.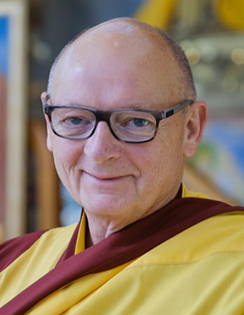 Gen-la Kelsang Thubten is Director of International Kadampa Internet, who
has been a disciple of Venerable Geshe-la for over forty years.
He was the principal editor of many of his books and has taught
internationally for many years, sharing a wealth of practical and meditative
experience.
No one turned away for lack of funds
We are a non-profit organization funded by class fees and donations. Any profits go to the International Temples Project for World Peace.