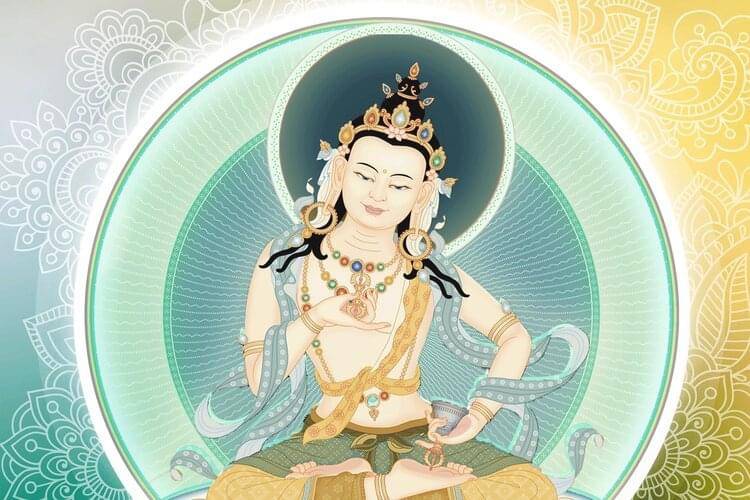 Vajrasattva Preliminary Guide Retreat

October 8th - 10th @ KMC SF
"Through the power of recitation and visualization, and through receiving Vajrasattva's blessings, we will gradually purify our mind and our actions. In this way we can improve our qualities as a human being, and eventually become a special holy being." Venerable Geshe Kelsang Gyatso Rinpoche, Teachings on Vajrasattva, 1993.
This retreat is a powerful method for purifying our negative karma. Each session includes prayer and time for silent meditation. By deepening our reliance on Buddha Vajrasattva in this retreat, we will cleanse our mind of delusions, negativities, and obstacles holding us back from reaching our full inner potential.
What to expect in this retreat

The sadhanas, "Offering to the Spiritual Guide" & "Meditation & Recitation of Solitary Vajrasattva" will be used

Silences for personal practice are included in the playlist
VAJRASATTVA PRELIMINARY GUIDE RETREAT

WHERE: In-person only | 3324 17th Street, San Francisco, CA 94110

GETTING THERE:

Metered street parking on 17th & Hoff St. (free past 6pm and free all day on Sundays)

Parking garage on 16th & Hoff St. (42 Hoff St, San Francisco, CA 94110)

Bart (16th St. Mission)

J Line Muni (Church St & 16th St)

Bus (#49, #14, #22, #33)
Fee: $30/person* - Free for TTP members, $15 for other members. Become a member
*50% discount available for students and seniors 62+. Contact admin@meditateinthebayarea.org
IN-PERSON
Please register online or at the door.
Saturday, October 8th
Session 1 | 9 - 10:30am
Session 2 | 11:30am - 1pm
Session 3 | 2:30 - 4pm
Tara Prayers | 4:30 - 6pm
Sunday, October 9th
Session 1 | 7:45 - 9:15am
Session 2 | 3 - 4:30pm
Session 3 | 5 - 6:30pm
Monday, October 10th
Session 1 | 9 - 10:30am
Session 2 | 11:30am - 1pm
Session 3 | 2:30 - 4pm
Offering to the Spiritual Guide | 5:30 - 7pm