December 31st, 7:00-8:30pm
New Year, New Intentions: Compassion is the New Normal
Alternative New Year's Eve celebration.
Short talk, meditation and Avalokiteshvara mantra recitation with Gen Kelsang Choma
December 31st, 7:00-8:30pm
Buddha Avalokiteshvara Practice

Buddha Avalokiteshvara is the embodiment of the compassion of all enlightened beings. By connecting with us to our own compassion, and by relying upon Avalokiteshvara and reciting his mantra, Om mane pame hum, we will receive special blessings, naturally increase our own compassion and ultimately attain the universal compassion of a Buddha, with the ability to benefit each and every living being.
'Compassion causes us to experience happiness because once we generate it our disturbing minds such as pride, jealousy, anger and attachment are pacified and our mind becomes peaceful. It causes others to experience happiness because when we have great compassion we naturally care for others and try to help them whenever we can.' Ocean of Nectar, Venerable Geshe Kelsang Gyatso Rinpoche.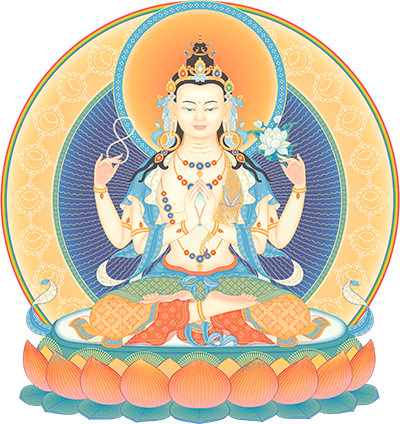 Gen Kelsang Choma is a senior teacher and Buddhist nun with the New Kadampa Tradition of Modern Buddhism; she has studied extensively on the Teacher Training Program for over 25 years and is qualified to teach both Sutra and Tantra.
She is the Resident Teacher at Kadampa Meditation Center San Francisco and is invited to teach nationally. People enjoy her teachings for their clarity and warmth.
No one turned away for lack of funds
We are a non-profit organization funded by class fees and donations. Any profits go to the International Temples Project for World Peace.